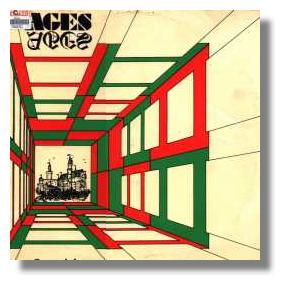 Release information:
LP: October 1975, EMI-Brigadiers, EMCJ(L) 11512,
CD: February 2010, Fresh Music, freshcd170
Tracks:
Avenue

*

(T McCully) [4.00]
1623

*

(R Wilson) [2.07]
You (T McCully) [2.54]
I Walked Alone (R Wilson) [3.32]
Carbon Canyon (R Black) [2.47]
Blues In C Minor (T McCully) [5.15]
recorded live at UCT in August 1975
Step On Easy (T McCully) [2.40]
Guinevere

*

(T McCully) [3.10]
Goodbye Lonely Blues (T McCully) [2.55]
The Plague (R Wilson) [2.55]
In The Quiet Hours (R Wilson) [3.14]
Forgot How To Smile (R Black) [2.35]
Shingles (R Wilson) [3.40]

Bonus tracks on 2010 CD re-issue:


Carnival (3.13)
Got a good reason (2.51)
I'm waiting (4.35)
Inside (3.52)
Rainbow Illusion (3.29)
Gunpoint (2.54)
Shamrock (2.50)
A selection of music reflecting different ages written and produced by McCully Workshop.
Musicians:
Mike McCully: Drums, vocals
Tully McCully: Vocals, bass, guitar
Richard Black: Lead guitar, vocals
Richard Wilson: Electric violin, mellotron, electric piano
Leon Morten: Organ, synthesizer
Comments:
Ages was released in 1975 and reflected musical styles from the different ages of music and various influences can be heard: Uriah Heep, The Beatles, The Kinks, The Beach Boys, etc. The vocal harmonies are superb throughout. '1623' is a wonderful violin-led instrumental and the keyboard-dominated 'Guinevere' reached #10 on the LM Radio charts and the band even appeared on the very early days of South African TV playing this hit song.

Original album information supplied by Neil Daya from Vibes in N1 City, Cape Town in 1999.
Liner Notes for 2010 CD re-issue (uncut)
'Ages' is very much an album of its time, and it is also timeless. Released in October 1975, 'Ages' has many varied influences, and has a wide pop, folk, rock and blues appeal.
Before Ages
In 1965, the McCullagh brothers, Tully (born Terence on 31st May 1953) and Mike (born Michael on 7th April 1947) started as a folk-rock trio with Richard Hyam and called themselves the Blue Three. After a few personnel- and name-changes, they settled on McCully Workshop as they used to rehearse in Mrs McCullagh's garage.
Their debut album 'McCully Workshop Inc.' was released in June 1970 and included the hit single 'Why Can't It Rain'. 'Inc' has been referred to as: "'Sgt. Pepper' influenced psychedelic music blended with R&B, garage punk tunes. Great songs, lovely vocals, strong harmonies, great distorted guitar work."
After the 'Inc' album there was a deliberate move to do something different and progressive. The musical vibe at the time of the 'Genesis' album in 1971 was very brass influenced with bands like Chicago, Blood, Sweat & Tears and Traffic pushing the boundaries of Jazz and Rock.
McCully Workshop spent the next three to four years changing line-ups and playing live gigs. They moved away from the Brass-Rock sound of the 'Genesis' album and embraced the keyboards sounds which were becoming more popular then. The band went into Advision Studios in Long Street, Cape Town with Tully as engineer and producer. 'Ages' was recorded using a Studer 1 inch 4 track recorder.
The Recording Of Ages
"'Ages' is a sort-of concept album", remembers Mike McCully. In the early 70's, the promise made by the improvisational bands in the late 60's, like Cream, Iron Butterfly, The Jimi Hendrix Experience and many others, had started to bear fruit.It was a time of rock music becoming really heavy and progressive, but also a time of the Singer-Songwriters and Folk Rock.
Medieval themes, Lord Of The Rings and 'Dungeons and Dragons' styles were the order of the day. Keyboard wizard Rick Wakeman had released an instrumental album about the 'Six Wives Of Henry VIII', Ritchie Blackmore's Rainbow had sang about 'The Man On The Silver Mountain' and Uriah Heep celebrated 'The Magician's Birthday'.
Mike McCully says that when McCully Workshop used to perform live around that time, the set list would include their arrangements of classical pieces like Bach's 'Toccata in D Minor', Grieg's 'Hall Of The Mountain King' and Strauss' 'Also Sprach Zarathustra' (better known as the theme to '2001: A Space Odyssey)' alongside 'Every Little Thing' by The Beatles and 'The Man From Afghanistan' by Curtiss Maldoon. Quite an eclectic mix.
When asked about his favourite song on the 'Ages' album, Mike McCully says without hesitation: 'I Walked Alone'. "This song had very difficult drumming, and I was influenced by Jim Keltner at the time. And the drumming on 'Guinevere' features double-tracked triplets", continues Mike, "and live I used to play this with four sticks (a la John Bonham) for audio and visual effect."
The album opener, 'Avenue' is a bass-driven rock track, which echoes 'Salisbury'-era Uriah Heep, whilst 'Carbon Canyon' is an uptempo Steve Miller Band-influenced blues boogie with rollicking piano and cool guitar licks from Richard Black (born 9th December 1946) who had been playing guitar with various bands since the mid-60s. He had been in a rock power trio, Elephant, with George Wolfaardt (Abstract Truth) and Savvy Grande (Suck) and he brought his impressive rock credentials into McCully Workshop as a replacement to Bruce Gordon.
Black also brought his flute-playing skills to the 'Ages' album, and the flute adds an extra dimension to the Focus-inspired instrumental 'Shingles'. 'Step On Easy' is influenced by Country Folk Rock, and would not have been out of place on a Stealers Wheel album. 'Blues In C minor' was recorded live at the Students Union Hall at the University Of Cape Town. It is a tongue-in-cheek improvisational live blues jam with Tully trying out his best Louis Armstrong impersonation. "It was a spoof song", says Tully, "I would make up different lyrics every time I sang it". Leon Morton's organ-playing shines on this song.
Emerson, Lake and Palmer were a big influence on the recording sessions. Keyboardist Leon Morton loved Keith Emerson, Mike McCully rated Carl Palmer as a top drummer, and Tully McCully is a singing bassist, just like Greg Lake. Leon Morton used an Elka Rhapsody string synthesizer (also used by artists like Jean-Michel Jarre and Tangerine Dream) extensively on the 'Ages' album, and the epic chords on 'The Plague' are thanks to this instrument.
Richard Wilson's violin playing can be heard on a number of tracks on 'Ages' including a few of his own compositions. '1623' and 'Shingles' are among Tully's favourite songs on the album.'Great medieval sounds, mixed in with Irish jigs", says Tully. "They were very much in the style of that hit single 'Jig-A-Jig' from 70's prog-rock band East Of Eden. We even used to play that song at our live performances".
Richard Wilson was also a classically-trained pianist and his playing can be heard prominently on 'Guinevere'. This song is a powerful prog-rock ballad that reached the LM Radio Top Ten. The vocal harmonies of Crocodile Harris can be heard on this track and it was performed live during the early days of South African TV.
McCully Workshop always prided themselves on their vocal harmonies, and were influenced by bands such as Crosby, Stills, Nash & Young, Yes, The Beach Boys, Uriah Heep, The Moody Blues and The Beatles. "We were always well-rehearsed with our vocal harmonies", remembers Tully. 'Forgot How To Smile' was penned by Richard Black and Tully wanted to try something different with the vocals, so he put them through a guitar phase pedal!
On the subject of strange effects, the echo chamber for this album was the 18 by 12 foot corrugated iron water tank on the roof of the studio building. "We put a speaker on one side, and two mikes on the opposite side to create echo and reverb effects" says Tully. "Then one day a storm came and blew the water tank across the road on top of the building next door!" Unperturbed they strung cables across and continued to use it.
After Ages
Leon Morton left to pursue a career in banking, and Richard Wilson formed the Wright Brothers with Crocodile Harris and they had a hit with Tully's compositon 'Silver Bird'.
Rupert Mellor joined on keyboards and their biggest hit 'Buccaneer' lay just around the corner.
A new McCully Workshop album titled 'Work-In-Progress' is due for release in 2010.
35 years after 'Ages' the Workshop is still open for business.
Brian Currin
December 2009