Buccaneer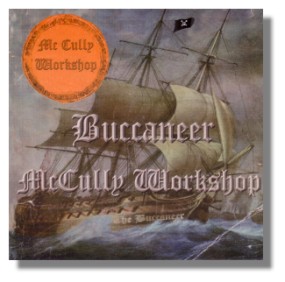 Release information:
1998, Micmac Sound, MS001
No.
Title
1.
Buccaneer 1998 re-recording, originally an SA #1 hit in 1977
2.
Chinese Junkman 1998 re-recording, originally an SA #9 hit in 1978
3.
She 1998 recording
4.
Free 1998 recording
5.
Why Can't It Rain? 1998 re-recording, originally an SA #12 hit in 1970
6.
Maneater 1998 recording
7.
Sweet Fields Of Green 1998 re-recording, originally a hit in 1971
8.
Guinevere 1998 re-recording, originally from the album Ages
9.
Heat 1998 recording
10.
The Millers Tale 1998 recording
11.
Birds Flying High 1998 re-recording, originally a hit in 1972
12.
Weather The Weak End Down a 1998 studio jam
Musicians:
Mike McCully: Drums, vocals
Tully McCully: Vocals, bass
Rupert Mellor: Keyboards, vocals
Richard Black: Guitar, vocals
Additional musicians:
Kevin Gibson: Drums
Allan Faull: Guitar
Comments
McCully Workshop re-recorded some of their classic songs for the digital age in 1998 at Tully's Spaced-Out Sound studios in Cape Town. They also recorded a number of new tracks. This is a great album. Wonderful male vocal harmonies, epic guitar solos, superb keyboard flourishes and a thundering rhythm section make this an album that needs to be listened to, over and over again.

All songs written by Tully McCullagh except 'Buccaneer' and 'Chinese Junkman' composed by Mike McCullagh.
1998 Recordings
All tracks were recorded in 1998. Most of the original versions can be found on The Best Of McCully Workshop released in January 2005.
Birds Flying High

The original version of 'Birds Flying High' is available on a Retrofresh CD compilation called 'Astral Daze - Psychedelic South African Rock 1968-1972'. This CD, released in January 2006, features 18 classic, rare and obscure tracks (16 of which have never previously been released on official CDs before). This compilation CD was compiled by Benjy Mudie and Brian Currin with major input from SA rock collector Tertius Louw.
SHE - McCULLY WORKSHOP
from SA Rock Digest Issue #37, 24 October 1999

This superb Beatlesque track, recorded by the reformed McCully Workshop in 1998, would not be out of place on any Oasis album. That begs the question why Oasis sells millions of CDs and this track is ignored? Even by South African radio programmers!

'She' is one of 6 new songs on the 12-track 'Buccaneer' compilation CD released in 1998. The McCully brothers (Mike and Tully McCullagh) decided to rework some of their classic songs and record some new ones. They went into Tully's renowned Spaced-Out Sound studios in Cape Town in 1998 and a while later they emerged with a freshened-up '98 version of their 1978 chart-topper 'Buccaneer'. The original late 70s band members, Richard Black (lead guitar and vocals) and Rupert Mellor (keyboards and vocals) were recalled to help flesh out these songs. Mike McCully played drums and Tully handled the guitar, bass and vocals while Kevin Gibson (drums) and ex-Falling Mirror guitarist Allan Faull helped out as well.

McCully Workshop have lost none of the spark that made them one of SA's greatest pop/rock bands and 'She' is a great example of how good they still are at writing and playing catchy, listenable pop/rock songs.

-- Brian Currin
---